About Abercrombie & Fitch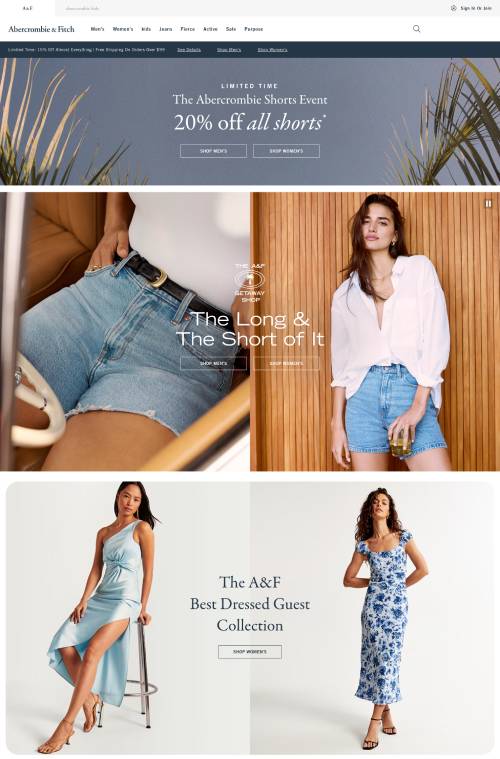 Abercrombie & Fitch is a popular fashion chain retailer in the United States. People love their high-quality, stylish designs of jeans, tops, bottoms, coats and jackets, matching sets, swimwear, sleepwear, and accessories. The corporation has a comprehensive variety catering to almost all wardrobe essentials to about two million customers.
Being a top seller, it's no wonder their apparels disappear from the stores like hotcakes, especially their new arrivals and seasonal launches. It may often happen that the item you had your eyes on is out of stock. This is where RestockBee comes to play: we will notify you when an item is back in stock in the size and color you want.
How often does Abercrombie restock
This is a common question because most retailers take months to bring back their sold-out items. But Abercrombie knows the high demands of its customers and restocks about every two weeks. The store staff has confirmed that Abercrombie likes to supply often because they do not believe in sending their customers away disappointed.
For their online stores also, they follow the same restocking pattern. So if you visit their store virtually and see your item out of stock, you can be sure to see it back in the racks in around 7-14 days.
The customer support service staff is quite efficient too. If you know the particulars about the item you are looking for, they will track the product ID and send you the restock time so you can plan your shopping trip accordingly.
How to get Abercrombie back in stock alerts
Even though you can sign up for updates on the Abercrombie site, using RestockBee is more effortless:
copy the URL of the product you want from Abercrombie's website
paste it in the form above and submit
on the next step, pick the size and color you need, and add your mobile phone number for the SMS alert
As soon as this item is back in stock at Abercrombie, you will receive an SMS.
Seasonal items restock
Summer and winter collections go out of stock less often than other seasons. Due to their high demand, the store keeps its collection available with accessories, and even if an item gets sold out, it is restocked relatively quickly in about 5-7 days.
Luxury items that are less in demand may take around two weeks, or if you require assistance, you can get them tracked and restocked through the customer support representative.
While no set routine is followed, it's safe to say that as per demand, Abercrombie and Fitch's stores regularly restock online and in physical stores. There is not one particular day that Abercrombie restocks, and searching, waiting, and tracking your desired item is exhausting, not to mention frustrating! But with RestockBee, you can sit back and relax while we do the heavy lifting. We will find the product and inform you via SMS, making your shopping time savvy and hassle-free!